Each year the CMEA-SES honors one member as our section "Music Educator of the Year" at the CMEA Awards Banquet at the California All-State Music Education Conference (CASMEC).  Other awards are given in special circumstances to recognize individuals who have distinguished themselves in their support of or dedication to music education in our region.
2023- Na-Young Moon Shin
2022- Jill DeWeese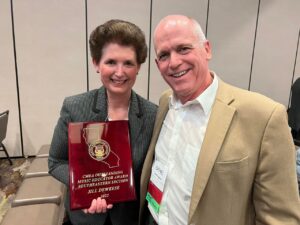 2021- Michael Fleischman
2020- Brian Gallagher

2019 - Phil Mortensen

2018 - Chris Peterson

2017 - Susan Willmering

2017 - Ted Alejandre - San Bernardino County Superintendent Of Schools - "Outstanding Administrator Award"

2016 - Kellori Dower
   
2015 - Greg Ellis
2014 - Bruce Rogers